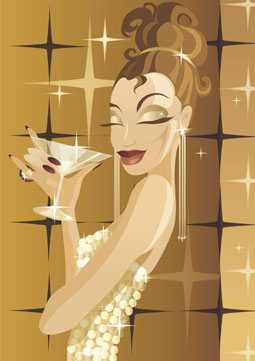 Illustration –Visualized Short Stories
Review on a breathtaking exhibition about present commercial illustration.
Seventy-five selected, large sized works from the portfolios of over 400 top illustrators of the present were presented to the public by Best OF Illustration for two months during autumn 2004.
The exhibit was presented in the floodlit halls of the beach portal Esens-
Bensersiel at the North Sea. A generous ambiance with direct free view into a worldwide unique natural landscape, the "ostfriesisches Wattenmeer", offered the suitable framework for approximately 75 large sized, extensive laminated art prints on plates.
A cross section of fastidious present illustration gave an insight into studios and the broad work of the stars of the illustration guild. Original comics, fresh layouts, story boards as film basis for later animations and advertising spots and also trendy fashion illustrations were to be seen. Celebrity caricatures of well-known personalities from TV and press, masterful water colors of well-loved subjects, as well as atmospheric child book illustrations presented themselves self-confidently beside rapid vehicle studies and convincing architectural representations.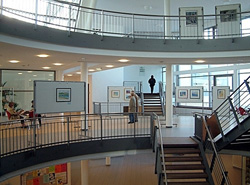 Whether surrealistic, satiric, modern reduced or abstract - the variety of graphic styles and topics showed the aliveness and creativity of the contemporary illustration, its meaning as applied graphic for the media and our culture area at general. The very busy master of the advertising art Bernhard Prince, whose work you know from weekly well-known magazines like Spiegel, Focus and Stern among other things, showed here his view of the well-known and most disputed painter and commercial artist colleague, Salvadore Dali.
Visitors received an déjàvu experience with graphically decorative objects from the porcelain and glass collection from Ritzenhoff. They could see at the same time the same graphics in large sized paper work.
The applied illustration is not exhausted in abstract, free description but rather has a high conceptional pretense. It needs to bring a very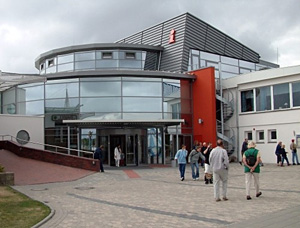 concrete message towards the critical consumer to the point and communicate directly with the viewer. Under this premise the illustrator is feasable to create a work within shortest production time to an economically justifiable expenditure. This product is so good, that it is able to fascinates a broad public in million-copy press run.
The high art of communication consists of visualizing a message that hits the viewer completely, simply and directly in the heart and brain, within seconds. The visual language of the commercial advertisement is short, crisp and concise. This was the topic of this very special exhibition.
Many thousand inspired visitors with love for the applied illustration and contemporary advertising graphics came gladly and it was worth their while.